You give your best each day to ensure our travelers have the best experiences during their short visits at ATL. Your hard work and careful attention to our guests never goes unnoticed. Check out some of ATL's outstanding members that have recently been recognized for their dedication to exceptional customer service.
Andrea Landry – "I left my work clipboard before leaving on an international flight. I called and of course they found it where I laid it down. Ms. Landry contacted me personally and asked for my mailing address and mailed it to me by priority mail and would not allow me to pay her back the $25 it cost to do so. She went above and beyond the call of duty to insure my important documents were returned to me. She definitely has what I call special character and integrity."
Mamadou Diallo – Went the extra mile to assist a guest traveling through Atlanta that was experiencing a life and death situation. He arrived on the scene at the American Airlines ticket counter to find a guest having a heart attack right before his eyes. He immediately started compressions shortly after, Atlanta Police and Medics were on site to take over.  Mamadou was part of a fully trained staff that was there to aid in resuscitating the passenger back to life.
Maerniet Weldeabiezgi, World Duty Free – Went the extra mile to assist a guest that purchased a bag. After leaving, she looked in the bag once more to make sure that she had taken everything out. To her surprise, she found bundles of money inside a zippered lining. She rushed to find her and luckily she found her exactly where she said she would be.
Robert "JJ" Davis, CH2M – Went the extra mile in locating the parents of a lost 8 year old girl that was alone and afraid in the AGT Pedestrian Mall tunnel. Robert immediately contacted AATC and APD. When friends of the parents noticed the child and wanted to return the child, you would not release the child until the police arrived and assessed the situation.
Amany Fanous, TBI – Went the extra mile in assisting a 69 year old passenger arriving from Jordan to America for the first time that was lost, afraid and not being able to speak a word of English. She contacted the passenger's son, allowed him to speak with his mother and kept him updated on his mother and her connecting flight.
Hulani Hicks, PrimeFlight – Went the extra mile when she noticed her passenger fall backwards and was able to catch her before she actually struck the floor. Hulani remained with the passenger throughout the entire medical emergency. After learning that the passenger was unable to walk and would be unable to continue her flight, Hulani comforted the passenger by holding her hand. In addition, Hulani provided assistance to Law Enforcement, TSA, and Medical Personnel by obtaining vital information concerning the passenger.
Barbara Howard, Southwest Airlines – Went the extra mile to assist a young lady that was dropped off by Greyhound that missed her flight. The customer was 16 years old with no money and a six month old baby who had not eaten since noon. Barbara jumped into action and placed a phone call to her daughter who brought diapers, wipes, formula, and clothes for the baby. Barbara then delivered the items to the mother who was resting at the precinct.
Tamia Thornton, Sodexo – Went the extra mile to assist an elderly female guest traveling through the airport that was lost and delayed due to the Plane Train being temporarily out of service. You took time from your personal break to escort the guest to her destination which was more than two concourses away.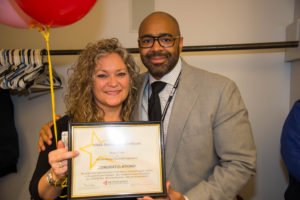 Donna Coole, AATC – Went the extra mile to assist a guest that mistakenly left a CD in the player and the CD book in the glove compartment.  You offered to use your lunch break to make a visit to the rental car company and secure the items. Since you would be flying into the guest's home airport for Christmas, you offered to either bring the CD's with you to make the exchange or would return the CD's back to Cracker Barrel, which you did.
Michelle Isaacs, PrimeFlight – Went the extra mile to assist a guest traveling through Atlanta that was experiencing a life and death situation. She was transporting a wheelchair passenger to her gate, saw what was happening and stopped to assist in saving the life of one guest and still managing to get the other guest to her gate on time to make her flight.